Kara M. Palamountain, MBA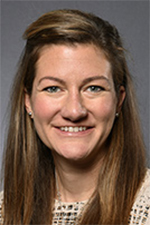 Kellogg School of Management - Research Assistant Professor Executive Director of the Kellogg Global Health Initiative Lecturer of International Business & Markets

k-palamountain( at )kellogg.northwestern.edu
(847) 491-4971
Research interest areas: Medical product development for resource limited settings, with a particular focus on market research that defines product development priorities, product requirements, geographical targets, and market sizes in Africa.
Potential opportunities for collaboration: Have you developed a novel technology but are not sure how to manufacture and launch the technology into a resource-poor environment? Do you have clinical validation experience in resource-limited settings? Are you a public health or operations researcher who can measure the impact of health technologies? Does your non-profit or NGO have an idea for a life saving medical product in a developing country? Do you have experience training clinicians to use or run medical technologies? If you said yes to any of these questions, then please contact Ms. Palamountain to discuss. Medical and public health students with funding and a particular interest in diagnostics have accompanied Ms. Palamountain on many field study trips to Africa.
Biography: Ms. Palamountain has played a crucial role in identifying the more strategic aspects of introducing diagnostics developed by CIGHT. She has managed over 50 Kellogg field research teams conducting market entry analysis in Botswana, Brazil, Cambodia, China, India, Mozambique, Namibia, South Africa, Tanzania, Uganda, Vietnam and Zambia.
Ms. Palamountain is a co-investigator on a cost-effectiveness project at Makerere University in Kampala, Uganda funded by the McLaughlin-Rotman Centre for Global Health. Ms. Palamountain has also served as an external reviewer for various projects under consideration by the Bill & Melinda Gates Foundation and a peer reviewer for Grand Challenges Canada. She also authored University Leadership for Innovation in Global Health and HIV/AIDS Diagnostics recently published in Global Public Health -- an International Journal for Research, Policy and Practice.
This page last updated Aug 16, 2011